Select Luxury Cars: keeping you 'in-the-know' with automotive news!
Here are some of the latest articles from around the web this week, all in one convenient spot for you. Want daily news articles? Be sure and follow us on LinkedIn, Facebook, or Twitter (@selectluxury) and we'll keep you informed all week long!
Chrysler To Temporarily Shutter Detroit Plant That Makes Vipers

Chrysler Group LLC is temporarily idling the Detroit factory that produces its high-end SRT Viper super-car, which has had slumping sales in recent months.
"Chrysler Group confirms that its Conner Avenue Assembly Plant will be down, beginning the week of April 14," said spokeswoman Jodi Tinson in an email to The Detroit News. "Production will resume the week of June 23. Ninety-one UAW-represented employees will be laid off during this time."
Chrysler only sold 591 Vipers last year and 91 in the first two months of this year.
"The SRT Viper is a hand-crafted American exotic car that is designed for a specific consumer that values performance, style and exclusivity. It has never been intended to be a mass-production vehicle as less than 29,000 vehicles have been produced in the past 20 years," said Chrysler spokeswoman Dianna Gutierrez.
"The ability to increase and decrease production at the Conner Avenue Assembly Plant allows the company to continue to meet our customers' desire to keep these special cars exclusive," she added. "Customer and dealer demand for the SRT Viper continues at expected levels. We will be able to take advantage of this transition to manage dealer inventories as we prepare for an exciting 2015 model year."
Click here to read the full article!
Source: Bryce G. Hoffman, The Detroit News
Aston Martin Brings Ice Driving Program To America

With between four and six hundred horsepower channeled to the rear wheels from a V8 or V12 engine mounted up front, an Aston Martin – any Aston Martin, really – might not seem like the smartest choice for driving on ice and snow. But that can also make it the most fun, and the most enlightening to experience.
That's the point behind the Aston Martin On Ice program: allowing customers to drive the latest Gaydon has to offer on slippery, wintery surfaces. But whereas the On Ice program has been established for years in St. Moritz, Switzerland and in the Swedish Lapland, this year it arrived in America for the first time.
A series of custom tracks – including a braking/cornering loop, slalom, skid pad and a full circuit – were carved into the snow in Crested Butte, CO, where expert driving instructors taught customers a thing or two about how to handle a powerful twelve-cylinder GT car like a DB9, Vanquish or V12 Vantage.
The program has concluded for the season, returning next February, but in the meantime Aston will use the Colorado base camp as the center of its driving experience through the Rockies.
Click here to see read more! Click here to watch a video!
Source: Noah Joseph, AutoBlog.com

Ferrari Them Park Planned For Spain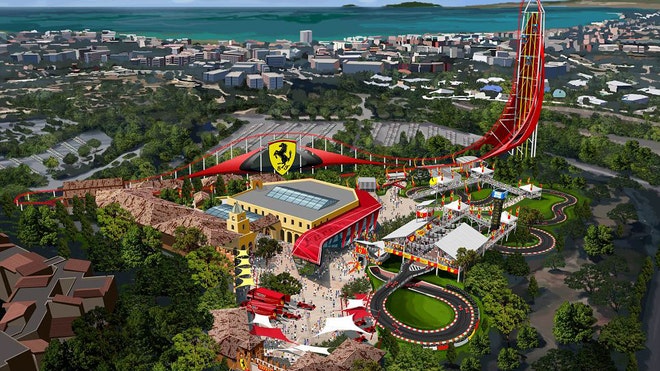 Got a need for speed? Why not plan a trip to the Spanish coast and put the pedal to the metal at Ferrari Land?
The luxury car firm Ferrari has announced plans to open its first European theme park at the PortAventura resort near Barcelona.
The Italian sports car maker, which already owns the world's largest indoor theme park and boasts the world's fastest rollercoaster in Abu Dhabi, United Arab Emirates, plans to open the Spanish Ferrari Land theme park in 2016.
"After the success of Ferrari World in Abu Dhabi, we received many, many requests to develop new amusement parks," Andrea Perrone, CEO of Ferrari Brand, said yesterday in a release. "We carefully sifted through the various proposals…It is a very solid plan developed by competent people that will bring the magic of Ferrari to Spain, a nation where we have many supporters and enthusiasts, and to which large numbers of tourists flock each year."
Ferrari says the 46.6-square-mile park will be home to a five-star, Ferrari-themed  resort and a huge vertical roller coaster, which the company claims will be the "highest and fastest" in Europe.
The PortAventura park is already home Europe's tallest coaster
, the Shambhala that reaches 249.3 feet into the sky, so Ferrari has some work cut out for itself. Here's to hoping they can pull it off.
Click here to read the full article!
Source: Foxnews.com
Porsche Bust-out New Boxster GTS and Cayman GTS

Baby 911. The poor man's Porsche. That's what they called the Boxster when it debuted some 20 years ago. They said the same of the first Cayman when it arrived a decade later, but they stopped saying it when the latest iterations hit the scene two years ago. That's because Zuffenhausen's entry-level models have long since stepped out of their big brother's shadow and into their own. And that appears to be all the more true of the new Boxster GTS and Cayman GTS.
Based on the Boxster S and Cayman S, the new GTS models benefit from an enhanced 3.4-liter flat six that produces 330 horsepower and 273 pound-feet of torque in the roadster or 340 hp and 280 lb-ft in the coupe – representing an increase of 15 hp and 7 lb-ft in either model. Both also come with the Sport Chrono package as standard, along with adjustable suspension and 20-inch alloys, blacked out to match the dynamic headlight surrounds and other muted trim.
Those disappointed by the unavailability of a manual transmission in the fire-prone 911 GT3 will be pleased to note that a six-speed manual comes standard, but those enamored of letting a pair of clutches shift themselves seamlessly will want to spring for the optional seven-speed dual-clutch gearbox. So equipped and with launch control engaged, the Boxster GTS will rocket from 0-60 in 4.4 seconds, while the incrementally lighter, more powerful Cayman will hit it in 4.3. Either way you're looking at a third of a second quicker than the Boxster/Cayman S. The interior has been upgraded with Alcantara trim and sports seats, but while Porsche is offering a stiffer suspension lowered by 20 millimeters in Europe, it doesn't seem to be offering it in the US.
Click here to read the full article!
Source: Noah Joseph, AutoBlog.com

Ferrari FXX Evolution For Sale In Florida With $2.2 Million Price Tag

While the LaFerrari hybrid is the Ferrari hypercar of the moment, it's just the latest in a long line of insane prancing horses.
Turn back the clock to the mid 2000s, and the FXX Evolution was the most extreme Ferrari you could buy. So extreme, in fact, that it wasn't road legal. That hasn't stopped Ferrari of Ft. Lauderdale from asking close to $2.2 million for a used example.
For the record, that's slightly more than the $2.1 million paid for an FXX Evolution at the 2011 Gooding & Company auction in Scottsdale, Arizona, which was a record for that particular auction. Michael Schumacher's personal FXX was put up for sale last year with a $2.67 million sticker.
Still, if there's any supercar from the past decade that can act as a money vacuum, it's the FXX. Only 30 cars were built, and all were maintained by Ferrari as part of its Corse Clienti program.
That meant owners never actually took delivery of their cars. Ferrari maintained possession of each car, but would ship it to a track of the owner's choosing along with a support team for the full racing fantasy experience.
It also means that while it may technically be a "used" car, the Rosso Scuderia (red) 2005 FXX Evolution similar to the one above was probably maintained to a higher standard than even the most pampered collector car.
Click here to read the full article!
Source: Stephen Edelstein, MotorAuthority.com
Adler Dehner, Director of Business Development
–
Select Luxury Cars, located in Marietta, Ga. on Highway 41, hand "Selects" every vehicle. We specialize in the highest quality automobile made all over the world. Whether you live here in the Atlanta area or anywhere around the world, we will find the exact car you are dreaming of. If you are looking for a Mercedes, BMW, Bentley, Rolls-Royce, Porsche, Land Rover, Jaguar, Aston Martin, Maserati, Lamborghini, Ferrari or other high end models, expect to begin and end your search here. We inspect each of our vehicles over a 112 point inspection. Ensuring we are selling high quality, low mileage vehicles that will lead to more and more happy customers.
Select Luxury Service is the premier Luxury Car Service Center located in Marietta, GA and serves the Greater Atlanta Area. We specialize in servicing BMW, Mercedes-Benz, Porsche, Audi, Ferrari, Lamborghini, Bentley, Maserati, Land Rover, Jaguar, Aston Martin, other exotics, luxury, and super cars. Please visit our website to schedule an appointment to have your vehicle looked at by our Factory Certified Master Technicians.